Contemporary Minimalist
Today I would like to introduce to you two of the most important trends of minimalist style design.
The Great Room
The Open Kitchen Layout
How do we create a great room?
Disposing of partitions separating different rooms and making one great Room.
Minimizing or eliminating barriers between rooms
Combining different functions in one space, such as seating, eating, cooking, watching TV, entertaining, working, doing homework, listening to music and so on
Which is the advantage of an open kitchen layout?
It allows convenience, efficiency and a space that you can cook, entertain, pay bills, respond to an email,  and check on your children's homework or while they are playing, all at the same time and in the same space
The picture shows the before and after of a minimalist great room transformation in a Florida vacation home for a European young family. The mother wanted to supervise the kids when she was working in the kitchen. For this purpose we demolished the wall that divided the main area from the kitchen and decided for an open kitchen layout. I designed a home office hidden behind a double door in the floor-to-ceiling cabinetry area, with a roll-up shutter to hide clutter. To hide the appliances, we designed an appliance garage over the one level great island.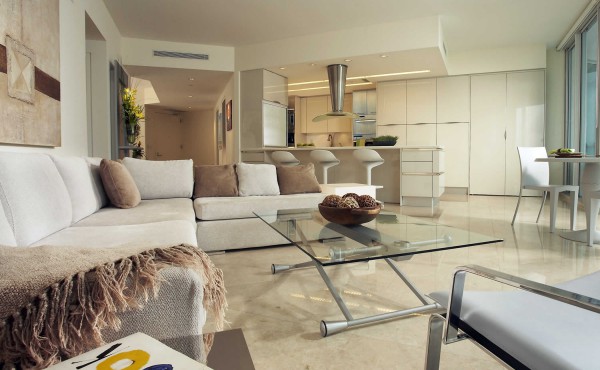 The brief of this Sunny Isles Beach vacation residence for an international family was to transform a traditional condo layout into an open space plan, comfortable for a family with young children while at the same time suitable as an entertaining space. Our design also integrated the family's growing art collection.
The wife wanted to see her small children while she worked in the kitchen and living/dining room area. The husband wanted to have a small work space connected to the kitchen. This was achieved through an extensive exercise of stripping out and demolition work to ultimately create a luxurious open space.
Neutral natural tones blend with rich glossy white surfaces and stainless steel accents to create a light, sophisticated open space. Combining classical luxury and comfort with contemporary modern twists and functionality, Korn Interior Design transformed this apartment into a modern and luxurious home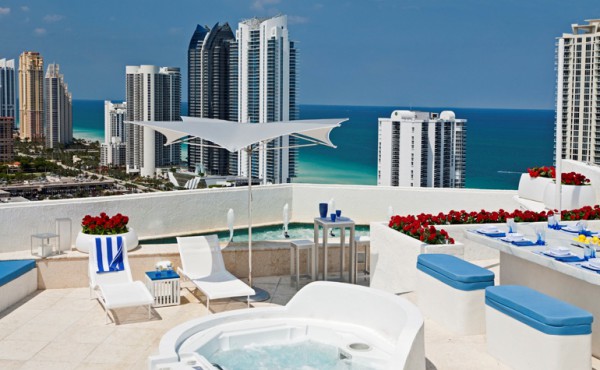 Korn Interior Design, Inc. worked with our client's vision for this penthouse triplex rooftop. Our client was captivated by the essential simplicity of form and color of the iconic island of Santorini, with its white washed villas a top its volcanic cliffs, and wanted to create his own 'Santorini in the Sky' in Miami!
To capture the essence of Greek Island architecture, and to compliment rather than compete with the dazzling beauty of Miami's azure skies and turquoise ocean views, Korn Interior Design, Inc. raised a large area of the roof to create a curved terrace area providing clear, spectacular views over the perimeter walls.  The successful 'formula' of the Greeks' color palette, consisting of roughcast white walls with accents of Cerulean blue and bright red – provided by flowers – was faithfully followed.
The rooftop includes a dining area, a bar area, a solarium, a Jacuzzi,a big fountain, a large bar, a full kitchen, a barbecue, a full bathroom with indoor/outdoor showers and various cushioned sitting areas.
With the risk of hurricanes always looming in Miami, most of the permanent 'furniture' on the roof terrace was constructed from lightweight concrete to obviate the need for constant removal during the Season. A storage room was created to store the few elements that are not attached to the structure.
Korn Interior Design, Inc. welcomed our client's dreams to create this unparallel rooftop.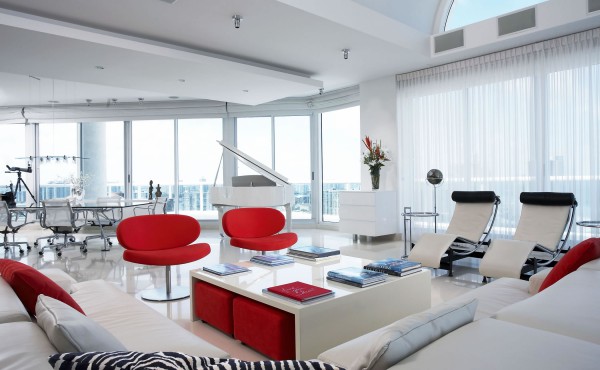 Korn Interior Design, Inc. was inspired by our client's Euro-minimalist aesthetic for this 7,000-square-foot penthouse triplex in Sunny Isles Beach, Florida, with 270 degrees wrap-around balconies in two levels, and a 1,500-square-foot rooftop, with views of the ocean, the Intracoastal waterways, and downtown Miami & Ft. Lauderdale. Our team worked from the pre-construction stages with the building architects andthe developer to ultimately create a luxurious open floor plan layout, very different to the original developer's proposal.
The large main living floor seamlessly blends several 'functional areas'; a large open kitchen, a bar/entertainment station, dining area and a lounge/TV theater – each 'delineated' by direct or indirect lighting and/or architectural elements such as the barrel ceiling in the theater and various wall and ceiling soffits. The design is ultra contemporary with clean lines, sleek surfaces and lack of clutter.
Using an exceptional selection of materials, architectural elements,dramatic lighting effects, and the latest technology, our team created a magnificent space which reflects an understated minimalist luxury aesthetic, in an interplay of comfort, modernity and elegance.