Contemporary Minimalist Penthouse Rooftop Project, Sunny Isles, Florida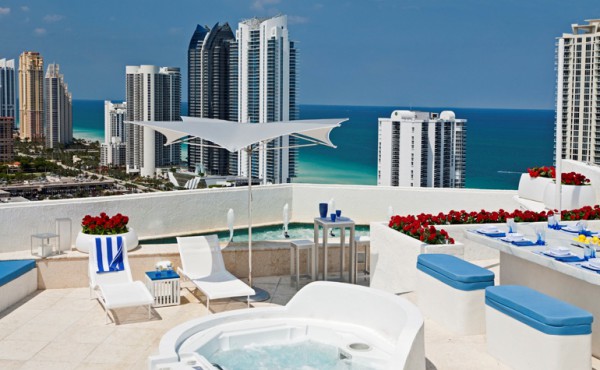 Korn Interior Design, Inc. worked with our client's vision for this penthouse triplex rooftop. Our client was captivated by the essential simplicity of form and color of the iconic island of Santorini, with its white washed villas a top its volcanic cliffs, and wanted to create his own 'Santorini in the Sky' in Miami!
To capture the essence of Greek Island architecture, and to compliment rather than compete with the dazzling beauty of Miami's azure skies and turquoise ocean views, Korn Interior Design, Inc. raised a large area of the roof to create a curved terrace area providing clear, spectacular views over the perimeter walls.  The successful 'formula' of the Greeks' color palette, consisting of roughcast white walls with accents of Cerulean blue and bright red – provided by flowers – was faithfully followed.
The rooftop includes a dining area, a bar area, a solarium, a Jacuzzi,a big fountain, a large bar, a full kitchen, a barbecue, a full bathroom with indoor/outdoor showers and various cushioned sitting areas.
With the risk of hurricanes always looming in Miami, most of the permanent 'furniture' on the roof terrace was constructed from lightweight concrete to obviate the need for constant removal during the Season. A storage room was created to store the few elements that are not attached to the structure.
Korn Interior Design, Inc. welcomed our client's dreams to create this unparallel rooftop.