Georgian Residence, Pilar, Buenos Aires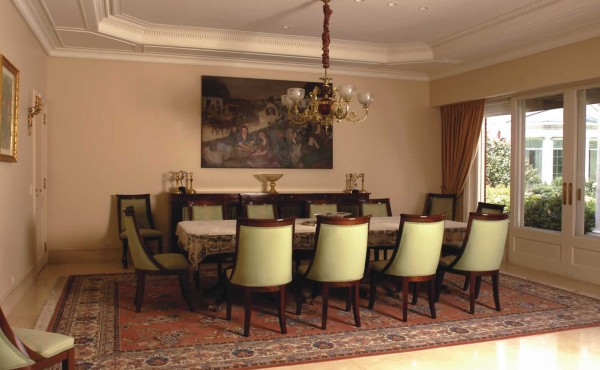 The brief of the project was to develop a 16,000 square foot Georgian Style residence in a country club community in Pilar, Buenos Aires, to suit our client, a couple who likes to entertain and that would use this residence during Buenos Aires winter weekends. The commission involved the architectural, interior architecture, and interior design projects, the selection of the art & antiques, the accessories and fine objects, the supervision of the landscape design, the project management and the construction supervision.
Plans for the 16,000 square foot winter residence were so large, that the Country Club ordered to divide the residence in two buildings- a main residence with the maids quarters and a facility for an indoor swimming pool, two locker rooms with hot tub saunas, a huge game room, a dining room, a kitchen, a large "Argentinean" barbecue area, and the residence's caretakers apartment.
Our design respected Georgian style principles, recommending the use of mosaic tiles for the indoor swimming pool-England during the Georgian period had discovered Pompeii. Our project also added some French touches to please our client's wife, such as the custom-made wrought iron staircase and front door, with gold accents, details that remind her of her condo in the XVI arrondissement in Paris. Our design also integrated the family's important art and antiques collection.